Sunday, February 24, 2008
Zen Brain
Elizabeth Hurley and husband have settled a dispute with a former maid who argued she was paid peanuts by the couple. Violet D'Souza claimed she worked up to 19 hours a day, barely earning $3 an hour and was allegedly paid in rupees. D'Souza filed charges and was prepared to tell her story to the press, however she accepted a five-figure settlement.. hopefully in pounds.
Sophia Bush has vowed to remain single two years after splitting from boyfriend Chad Michael Murray because she's holding out for Mr. Right. The stunner explained, "He's got to make me belly-laugh. I do ridiculous things to make myself laugh all the time. Intellect is the sexiest thing in the world to me but you've still got to make me laugh." Digging for the holy grail, huh?
Links:
>> Russell Crowe and Rachel McAdams chilling on set of 'State of Play' [
RC-RM-Coffee
]
>> Hugh Jackman goes house hunting with wife and son [
Hugh-House
]
>> Leighton Meester at Reebok's Freestyle World Tour Collection [
Leighon-Reebok
]
>> 'Final Destination 4' sets cast [
FD4-Casting
]
Lily Allen has fuelled speculation of a reconciliation with ex-boyfriend Ed Simons - after the singer was spotted wearing an engagement ring. She was seen leaving Simmons home last weekend sparking rumours they may have decided to revive their relationship. Lily was seen happily showing off the ring at the premiere of 'The Other Boleyn Girl' in London. Good times ahead?
Charlotte Church is reportedly keen to leave her old partying ways behind her now that she's a mum. Charlotte was spotted enjoying a Chinese meal with her family for her 22nd birthday this week and without any booze... An onlooker reports: "She had Peking duck, spare ribs, vegetables and boiled rice - all without a drop of alcohol. She's clearly changed since becoming a mother." Impressive..
Charlize Theron @ 1st Hollywood Domino Tournament
Alicia Witt @ We Own The Night Premiere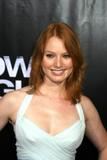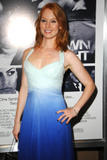 50 Cent has been ordered to pay an undisclosed fee to a photographer who was assaulted by one of his security guards outside a Jewellery shop in Manhattan in 2003. Jim Alcorn claims that he was hit on the head and pushed to the street in the incident. A spokesperson for 50 Cent said: "It's a legal issue that's been settled." Don't be surprised to hear Jim's name being mocked at in future albums.
reported by Alex Banks
---
14 Comments: