Monday, March 03, 2008
God Thunder
Simon Cowell has claimed he was offered £1 million to become the face of Viagra and was "insulted" by the request. Mr Mean admitted wearing platform shoes to make him appear taller. Speaking about his own grooming habits: "To me, Botox is no more unusual than toothpaste. It works, you do it once a year - who cares?" Maybe V-gang has helped reveal something..
Colin Farrell is still haunted by the memory of eating a swan's foot in Tibet. The Irishman was on vacation in the Buddhist mecca when he was presented with a country delicacy which turned his stomach. He says, "I ate a f**king swan's foot in Tibet (and) it was the most depressing (thing). They were all like, 'Ah, this is the...' and out came a swan without its calf." No guest starring in Fear Factor then..
Brooke Shields ended her rift with her mother during a heartfelt telephone call. Teri recently complained to a tabloid that the actress had shut her out of her and her grandchildren's lives. After reading the article, Brooke reached out to the 74-year-old. Teri says, "Brooke called me to remind me to watch the second episode of her show. I know she doesn't want this bitterness to continue." Good for them.
Sophia Bush - Out & About in New York
Rachel Bilson @ "Gelsons" Supermarket
Links:
>> Hugh Jackman on the set of 'Wolverine [
HJ-Wolvieset
]
>> New Get Smart Trailer [
GetSmart-T2
]
>> Bikini Watch: Jennifer Aniston [
JA-Bikini
]
>> Alyssa Milano in Jezebel mag [
AM-Jez
]
Joss Stone is eyeing an early retirement from the music industry because she wants to become a nurse. Despite a successful music career, the 20-year-old insists she would like to try her hand at other professions. She says, "I certainly don't want to get to 60 and find I've only been a singer all my life. I'd like to train to be a midwife." Perhaps
that
would be a better career without worrying about having fake accents...
Sinead O'Connor has launched a scathing attack on Kylie, insisting she can't "bear" to listen to her music. The Irish star was so aurally offended by a recent live Minogue broadcast, she had to switch off her TV. She says: "I really can't stand Kylie's music. Her fans might want to shoot me for saying this, but that would be a far better option than to listen to one of her albums." Nothing compares to the na na na... na na?
reported by Alex Banks |
link
|
15 comments
|


Friday, February 29, 2008
Cherry Tulips
PETA have taken aim at the costume designers behind Amy Adams' new film - for dressing the star in vintage fur. The star admits she'd never wear fur for real, but had to sweat it out in 'Miss Pettigrew Lives For A Day'. PETA spokesman Michael McGraw says, "Costume designers need to know that whether the animals were killed yesterday or 50 years ago, they are not ours to wear." Costume peeps are now quaking in their furry shoes?
Jessica Simpson is in demand in the Ukraine following the success (???) of her latest film in cinemas there. Blonde Ambition was a flop in the U.S but has been reborn in the Ukraine, where it's become a surprise hit. And now local film bosses want Simpson to consider a trip to the country, where she has become an overnight sensation. Film producer Alex Shpiluk said, "She is really the ideal of American beauty and style, like Barbie. She would be useful to us and our image." Would Jessy go Euro?
Cheryl Tweedy at Heathrow, London (28/02/2008)
Groovy Tunes:
1) Kara Keith - Kick This City [
mp3
]
2) Magic Wands - Teenage Love [
mp3
]
3) Snake and Jet - Doom City [
mp3
]
Keira Knightley has revealed she admires Bjork and Helena Bonham Carter's style sense. Speaking to the Daily Express, she said, "I don't think I'm confident enough yet to be used to being in the limelight because of my style. But I loved the swan dress Bjork wore to the 2001 Oscars. I'd love to have the courage to do the same." Do it!
Josh Hartnett and Nadine Coyle have sparked rumours that they are dating. The pair have been spotted together in LA several times in the last week. A source said: "They were spotted at Blanco 101 looking very much like a couple and chatting over drinks until the early hours." Well done Josh. [
Nadine-Hartnett
]
Natalie Portman narrowly escaped serious injury after she was thrown from the back of a horse during a vacation in Africa. The actress was convinced she had become an equestrial expert after training in 'The Other Boleyn Girl' - but was given a short sharp shock in Kenya. She says: "They asked, 'What can you do?' 'Oh, I gallop, I can do anything, really.' I got on and immediately was tossed off the horse." Bad horsy.
Miranda Kerr - Freemans Catalog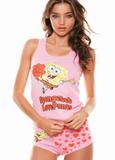 Links:
>> Scarlett Johansson gives Jessica Biel some love advice [
SJ-Biel-Love
]
>> Courteney Cox Reveals Hubby's Green Eye [
CC-Hubby
]
>> Renee Zellweger Arrives In Chaos At LAX Airport [
RZ-LAX-Chaos
]
>> Orlando Bloom Smells Bad? [
Bloom-Smell
]
Prince Harry has reportedly been forced to leave Afghanistan after news broke that he has been serving in the country with British troops since December. Defense Secretary Des Browne said: "I am delighted that Prince Harry has had the opportunity to serve on operations in Afghanistan with his Battlegroup. We can be proud of him and all his fellow soldiers. A source tells Us Mag: "He has left the base and is en route to another location." [
PHarry-Afg1
|
PHarry-Afg2
]
reported by Alex Banks |
link
|
1 comments
|


Sunday, February 24, 2008
Zen Brain
Elizabeth Hurley and husband have settled a dispute with a former maid who argued she was paid peanuts by the couple. Violet D'Souza claimed she worked up to 19 hours a day, barely earning $3 an hour and was allegedly paid in rupees. D'Souza filed charges and was prepared to tell her story to the press, however she accepted a five-figure settlement.. hopefully in pounds.
Sophia Bush has vowed to remain single two years after splitting from boyfriend Chad Michael Murray because she's holding out for Mr. Right. The stunner explained, "He's got to make me belly-laugh. I do ridiculous things to make myself laugh all the time. Intellect is the sexiest thing in the world to me but you've still got to make me laugh." Digging for the holy grail, huh?
Links:
>> Russell Crowe and Rachel McAdams chilling on set of 'State of Play' [
RC-RM-Coffee
]
>> Hugh Jackman goes house hunting with wife and son [
Hugh-House
]
>> Leighton Meester at Reebok's Freestyle World Tour Collection [
Leighon-Reebok
]
>> 'Final Destination 4' sets cast [
FD4-Casting
]
Lily Allen has fuelled speculation of a reconciliation with ex-boyfriend Ed Simons - after the singer was spotted wearing an engagement ring. She was seen leaving Simmons home last weekend sparking rumours they may have decided to revive their relationship. Lily was seen happily showing off the ring at the premiere of 'The Other Boleyn Girl' in London. Good times ahead?
Charlotte Church is reportedly keen to leave her old partying ways behind her now that she's a mum. Charlotte was spotted enjoying a Chinese meal with her family for her 22nd birthday this week and without any booze... An onlooker reports: "She had Peking duck, spare ribs, vegetables and boiled rice - all without a drop of alcohol. She's clearly changed since becoming a mother." Impressive..
Charlize Theron @ 1st Hollywood Domino Tournament
Alicia Witt @ We Own The Night Premiere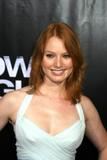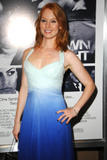 50 Cent has been ordered to pay an undisclosed fee to a photographer who was assaulted by one of his security guards outside a Jewellery shop in Manhattan in 2003. Jim Alcorn claims that he was hit on the head and pushed to the street in the incident. A spokesperson for 50 Cent said: "It's a legal issue that's been settled." Don't be surprised to hear Jim's name being mocked at in future albums.
reported by Alex Banks |
link
|
15 comments
|


Saturday, February 16, 2008
Oxford Comma
Kirsten Dunst is in hyper party mood after her split from Jake G. The fall-out only made Dunst want to party more, claiming her weaknesses were both cocaine and alcohol. "She was the center of the group - doing shots and encouraging everyone to drink," a source revealed. Time to hook up with some cool junkie rock star..
Speaking of which, Emma Watson has laughed off rumours she is dating Johnny Borrell after the pair were spotted leaving a party together. The actress says: "I'd never met him before so that was great as I'm a big Razorlight fan. Maybe I should stand next to Orlando Bloom and then we can be said to be dating." What's so great about that Johnny boy anyway?
Lindsay Lohan - Fendi Celebrates Redesigned Rodeo Drive Flagship Store (13/02/2008)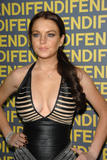 Links:
>> Johnny Depp, Jude Law and Colin Farrell to all play Heath Ledger's last character [
JD-JL-CF-combo
]
>> Anne Hathaway Shooting A Lancome Commercial [
AH-Lancome
]
>> Keira Knightley and Rupert Friend: Love in London on V-Day [
KK-Vday
]
Paris Hilton's new film The Hottie And The Nottie has been named the worst movie ever. Users of Imdb have voted the 2008 comedy - in which she plays a stunner with a not-so-attractive best friend - the worst of all time, giving it on average a score of 1.2 out of 10. The movie had an average of just 31 people per theatre over a three-day period. LOL Bummer..
Jessica Simpson is in talks to star in another reality show. The singer is considering being filmed while she records her upcoming country album. A representative for CMT said: "We have had exploratory talks with Jessica's camp, but nothing has been confirmed or signed. They're in talks with CMT for a special timed-to-air show when the album is released." So she'll now be confessing her Romo love every other week?
Natalie Portman and Scarlett Johansson - "The Other Boleyn Girl" Premiere (15/02/2008)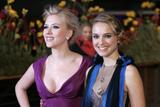 New Tunes:
1) The Selmanaires - Vertigris Intrigue [
mp3
]
2) Lykke Li - I'm Good, I'm Gone [
mp3
]
3) Scary Mansion - Sorry We Took All Yr Money [
mp3
]
>> The 50 Hottest Women of Sports [
Top-50-Women-Sports
]
Franz Ferdinand's Paul Thomson's got lyrical on what direction the band's new album is taking... eclectical turns. He writes, "I would say it sounds a bit like Sly and the Family Stone meets Prince in Govan on the way back fae signing on when Sly remember he still owes Fela Kuti that fiver from last week when Fela tapped him at Brian Eno's birthday party in downtown Lagos..." Insane madness guitar rock guaranteed..
reported by Alex Banks |
link
|
0 comments
|